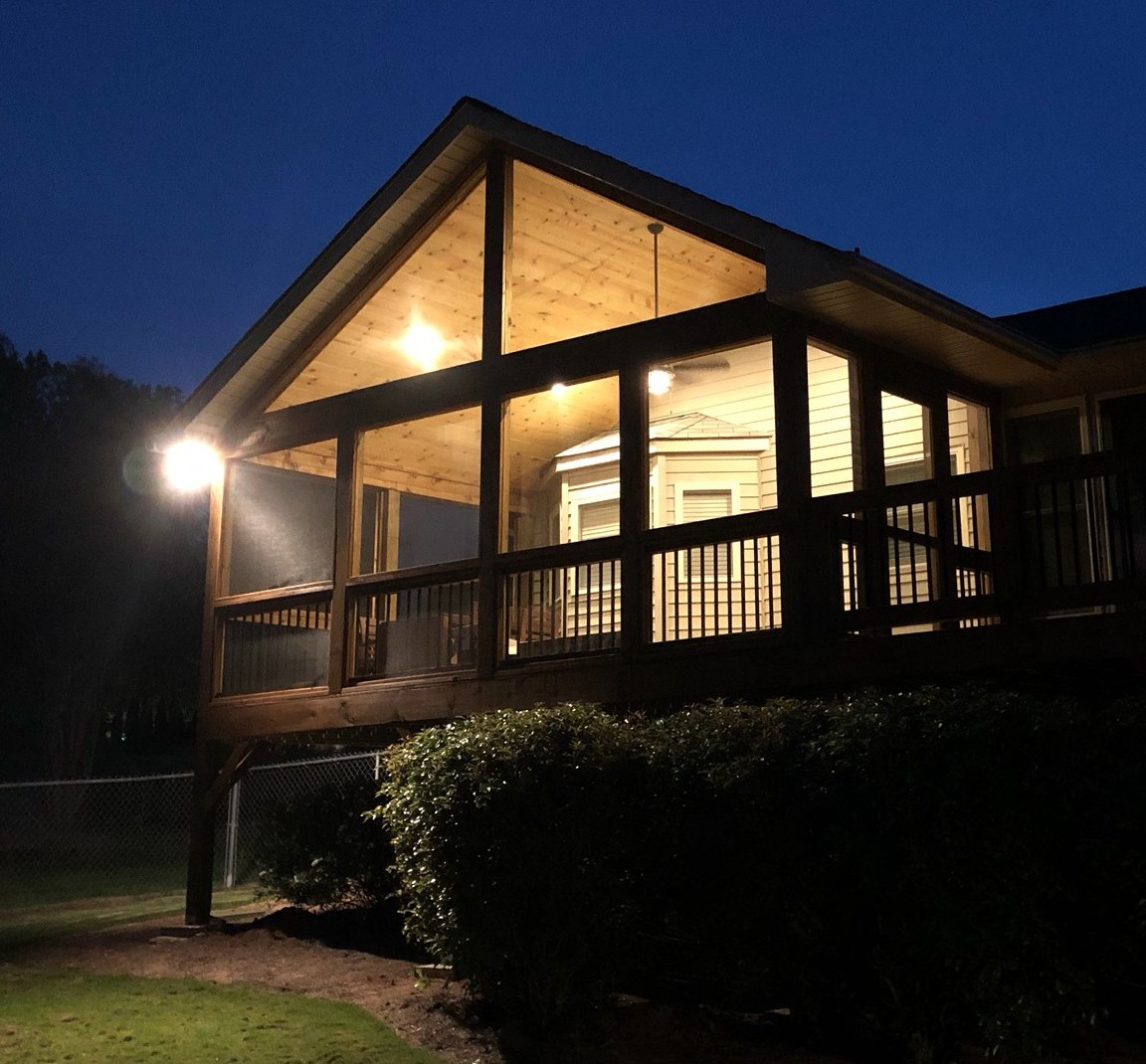 When the weather is nice, the image of grilling out, listening to music and enjoying the weather with family and friends is on the mind of many people especially during the warmer days of the year. A deck   by design is used to be an extension of the house creating more enjoyable space. Whether you need deck repair from boards that are splitting and warped, nails popping up causing potential harm, wobbly steps and railings or an all out major overhaul and rebuild, call us today.
Our decks are built to code, utilizing the highest quality pressure treated wood and other various quality materials providing a solid, sturdy design. With options that allow you to create functionality of sweeping or blowing leaves off the deck, providing the necessary protection for your kids safety or adding the "Wow" factor image of having a solid deck to increase the value of your home, your new deck will create memories lasting a lifetime.
Everything they did was top notch …
I wanted to add a rear deck across back of house connected to sun room. Liked the deck he did for a neighbor so called Chris and he gave us a very reasonable estimate for the large deck. His crew was fantastic they really worked hard and were very talented. Chris stayed in touch with us thru out. They also took out 2 dining room windows and installed a patio door. Everything they did was top notch. We were very pleased with everything they did and highly recommend them to anyone and plan on using them again..they demoed the rear stairs and every bit of debris was cleaned up and hauled away.
Loved Working with them …
We loved working with Chris to transform our back deck into a larger deck with a screened in porch. The final product is more than we ever could have dreamed. Very high quality and safe for our two little kids. Chris is very personable and made sure to make us feel like we were important to him. This was a big investment for our family, and we felt like we were in good hands. Thank you, Chris!
Outstanding Job …
I called Chris on a Monday to get some painting done in order to put our house on the market, and he was able to get his crew out there on Wednesday. His painter, Alfredo, did an outstanding job with a difficult foyer/stairway. He was efficient and professional. I was in awe at how fast he got the job done. I highly recommend Chris and his crew!
Chris and his team were awesome! They communicated to me during the whole process and showed up on time each day. His team was very efficient and left no trace when they were finished. I am beyond impressed. I love my new deck! I will definitely use these guys again in the future.

Call us today at 678-908-0067 to have one of our deck specialists discuss your image of the ideal deck.